Unfortunately I've been stuck a few times without my camera and had to use the cell phone instead. Thankfully I've gotten a new phone so it does take a bit better pictures than my last phone. Here are a few of the recent phone pics:

Jax in the car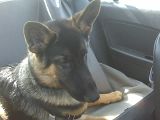 Jaxson at Ritters, a frozen custard stand we love. This was his first time there, and our first time of the season. We got him his own little bowl of plain frozen custard. He even ate really well off a spoon. Plus, we tested his "leave it" and he did great!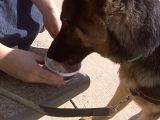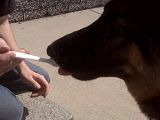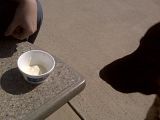 Pictures from today while being lazy in the bedroom. At first Jaxson was not quite getting the idea, however he eventually adjusted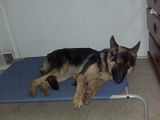 This is the neighborhood outdoor cat, whom I have "named" Charlie. He is incredibly sweet and good natured, comes when you call him generally, and loves to be petted. He was quite dirty when I saw him this time, however normally he looks pretty good, and as you can tell he is well fed and pudgey. Obviously I wish he wasnt an outdoor cat and whomevers he was would take him inside so he doesnt get hurt one day on accident, but I enjoy his company when he does come around (and worry when I dont see him for a while).

Anyways, I spent about 10 mins with him one morning when I should have been on my way to work, but could only get one good picture of him since he moves around a lot!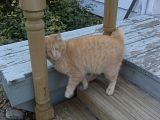 Today was Jaxson's first day to the dog park, and it went GREAT! He was a bit confused at first it seemed, "checked in" with us often, and spent a lot of time sniffing around, however after a long time there he warmed up, found another shepard (a gorgeous girl!), and started having fun. We had a good time as well, and talked with some great people. I took some decent pictures there as well (gotta document the baby's first time at everything, duh!), so I will put those up soon.

Soooooo tired after the dog park