Thank you everyone who voted for Jaxson! We got 2nd place! BilJac has a cute announcement on this page!

My boys, enjoying there kitty tree. I just love to stop and pet them when they are lying all comfortable there. I am sure they just love the intrusion, I mean attention.


Jaxson's first time at the drive-in movies was back at the end of June I think! I can't believe I havent posted these pictures! We saw Transformers & Star Trek - Jax loved the noises in Star Trek.
Our friends Keith and Brooke came as well, and Jaxson loves Keith
Jaxson did great meeting all the kids there, and even would just lay down and let kids come up to him, or would stay laying and watch kids run by.
We went to Fido Does Ferndale
- not many pictures because my camera memory was full! First time I have ever let that happen to me, I had been horrible about downloading my pictures!
Checking out whats going on, getting Jaxson to calm down when we first arrive
Walking down the street
Buffalo Wild Wings was nice to let dogs on their patio that day, and was very dog friendly. Here is another dog, Charlie, enjoying the attention from other diners
Jaxson and his water dish BWW gave him, filled with ice as well.
How did they know his favorite?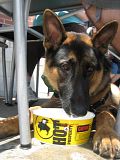 Back at home Jaxson is exhausted from all the fun!