Thank you everyone who came to Jaxson's birthday party! I think it was a great success!

I made homemade dog treats for all the guest doggies to take home. I made Pumpkin & Peanut Butter cookies and Blueberry with Banana and Oats cookies. Thank you so much to www.dogtreatkitchen.com & Michelle for her wonderful website with extensive information, recipes, and her quick email responses.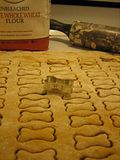 I also baked a dog cake! A nice carrot applesauce oat cake with cream cheese frosting, again thank you to www.dogtreatkitchen.com for the recipe!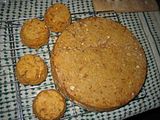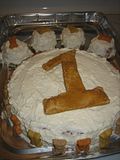 Rick also made some yummy wraps for people consumption, as well as spinach&artichoke dip which is not pictured



We had the party at Lyon Oaks Bark Park, which let us rent out one of the sides (since one is normally closed for grass growth). Thank you so much to Laurie with Oakland County Parks for helping me out throughout the process! I highly recommend having a party there, it was such a blast to have all that space to ourselves.



We decorated the pavillion with a happy birthday sign and laid out all the food on the picnic tables and prepared for a good time!

The pups enjoying all the room!
Besides renting us the space, Laurie & Oakland County Parks gave me doggy bags to give to all the guests! It included dog bones, pens, chip clips, flyers, information about the parks and I may even be missing a few things. They were great goody/doggy bags!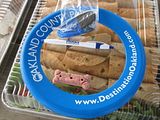 The dogs also made their point to be social with the people in the pavilion and take water breaks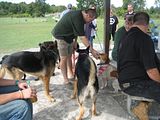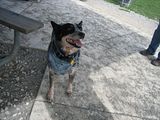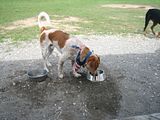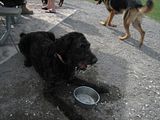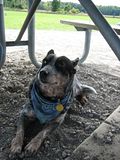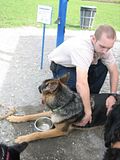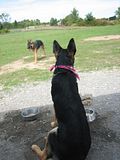 All the dogs in their birthday hats. Most put up with it pretty well amazingly!
In order the dogs are Milo, Blue, Bantha, Rhea, Buddy, Jaxson & Spencer
Joshua tried to eat a wrap and was mugged by all the dogs!
All the dogs had to be called away one by one! It was quite amusing.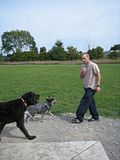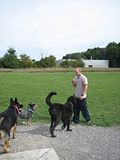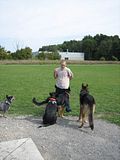 Outtakes of the Birthday hat pictures!!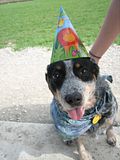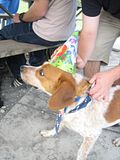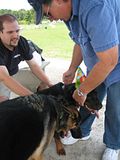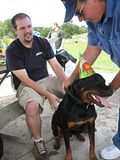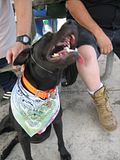 Birthday Boy Jaxson
Everyone got Jaxson amazing gifts, even though I totally didn't mean for anyone to bring anything! We havent given him even 1/10th of his toys yet! Of the ones he has gotten so far some of his favorites are his antler from Paul & Sandi (& Bantha), his blue rope tug from Renee & Joshua (& Blue & Rhea), and his rawhide from Adrienne (& Buddy). Thanks EVERYONE who came! I hope everyone & everydoggy had a great day!
Bantha even signed her card! Thanks Bantha!