Contest information:

Hello Everyone -


Our 10 month old puppy Jaxson is trying to win a years worth of free food! Can you please take a second & vote for him at the above link? #8 Jaxson

He has megaesophagus, which is pretty rare, however we have been able to manage it with hard work and love. A years worth of food would really help our costs.

You can vote daily in July, and Jaxson would really appreciate it.

Thanks!
Tara, Rick & Jaxson
Additional Information about Jaxson:
Jaxson was diagnosed with
megaesophagus
as a 2 month old puppy in December 2008.
He had
pneumonia
once in April 2009 when he was 7 months old and spent a night in the vet ER.
Unrelated, Jaxson also has
Panosteitis "growing pains"
diagnosed in May 2009.
Since Jaxson has megaesophagus, he has to be fed a special way, with his food blended with water. He needs to eat multiple meals throughout the day instead of one or two big ones, he gets a pepcid pill in the evening to help with his regurgitation, and if we get off schedule with his meals it upsets his stomach.
Thankfully, we have been able to go our own way about elevating him, and havent had to go to the "traditional megaesophagus" way of a
bailey chair
. This allows him to hop up and eat when he is hungry, and not be strapped in and let out. However, most dogs with megaesophagus do have to be fed in a bailey chair.
This is how Jaxson eats: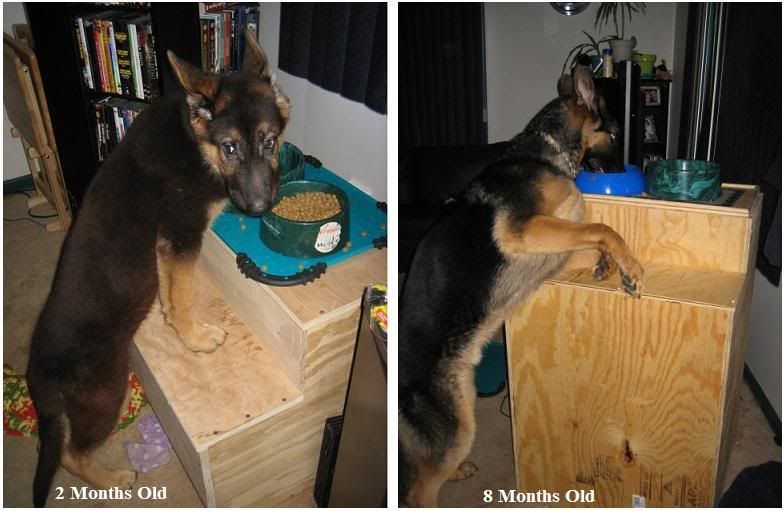 However, Jaxson is a happy guy! He loves to go places, meet people and dogs. We take him out with us whenever we can. He comes with us to eat at Panera Bread and Jimmy Johns, and to go get ice cream at Ritters. We go to the dog park and he loves to play! We went to
Dog Bowl '09 in Frankenmuth
and
Fido does Ferndale
and had a great time!
Here are some pictures from Jaxson out, about and with his friends!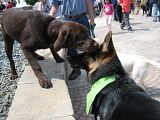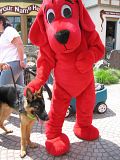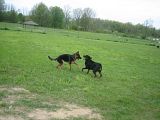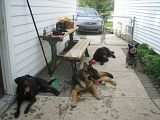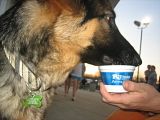 So please don't forget - Vote #8 Jaxson once a day in July!
http://www.opinionscout.net/BilJac/