It has been a beautiful November weekend here in Michigan! I hope everyone has been outside enjoying it!

Yesterday we had a doggy filled day of fun at the dog park, Robert Long park, two pet stores, and Jaxson kept me company in the car while Rick ran in to run errands in a few other stores. Busy Busy!

Here are some pictures from the dog park, halloween and the kitties!
The pictures from Long park will come later!

Lyon Oaks Bark Park 11/7/09 (check out Oakland County's new fancy webpage!)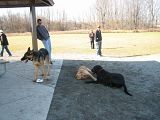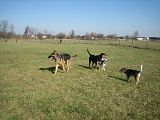 On our way out of the dog park we met the nicest Great Dane named Mistro! So adorable, playful, and nice! Mistro is about the same age as Jaxson, so they had a quick little play time!



I didn't get a lot of pictures on Halloween because someone (ah hem, EARL) decided to PEE on this box where we keep items away from Jaxson when we arent home, and the pee soaked in. Inside the box was my camera!!! We had the camera sit in rice for 24 hours so it could absorb the moisture and thankfully it works still! On Halloween it was still in the rice so we didnt get any pictures on my camera. I have a few from my cell phone and Rick's mom was nice enough to bring over her camera, however I havent gotten the pictures off of it yet.

Here is one adorable picture from my cell phone of Jaxson as our little hot dog!

Here are some recent kitty pictures - Davy has been a good boy thankfully! They always play so cute in the morning together but I never get any decent pictures of it.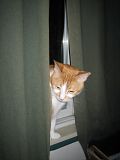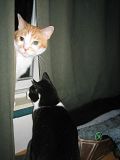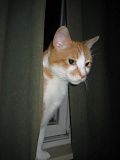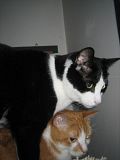 Sorry for the lack of pictures lately, October was a super busy month here for my birthday, a few weddings, and Halloween! However if you have been a
fan on Facebook
then you know that in this past month:
We had to put locks on the shoe cabinet, linen closet, outside of the bathroom, and use a shock zone to keep Jaxson away from the movie tower, but he's been a pretty good at home now that we are taking all that stuff away!
Jaxson has been so spoiled lately, getting scrambled eggs made for him (to try and make sure his weight stays up & consistent)
I've started to work on www.pawstoupdate.com! hurrah!
November 1 - 7 was National Animal Shelter Appreciation Week