Davy is in love with the top perch of the kitty tower, so it was a change of pace when Rick caught him lying on top of the tunnel towards the bottom of the tower.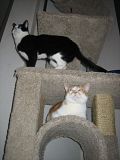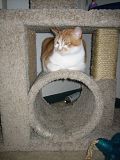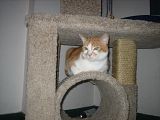 Jaxson's first frosty paw (dog ice cream) on January 11th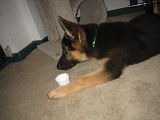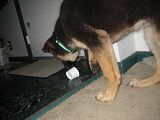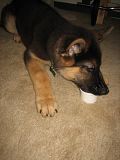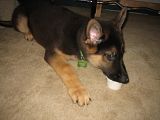 Rick getting Jax & Earl to work on their hind legs for treats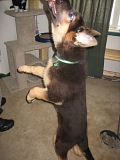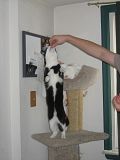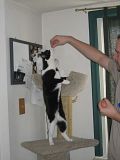 and I think they are now plotting against him
Every night we go upstairs to the bedroom and Jaxson has to take one of his gold pillows, bite it and show it who is "boss"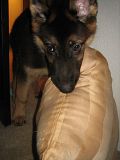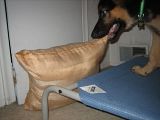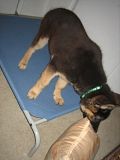 Jaxson is officially teething (and has now lost at least 3 teeth), so we try to help the little guy out with frozen fruit and a chilly bone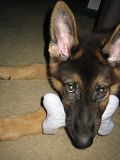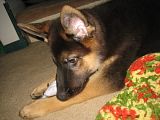 Rick multitasking, playing with Jaxson in the snow and taking pictures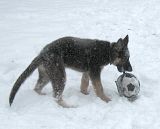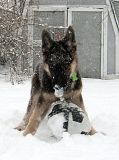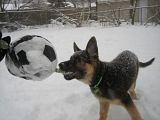 Video of Rick & Jaxson playing outside


Random Cute Pictures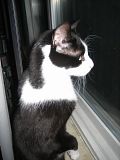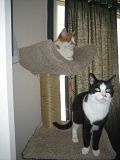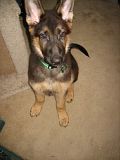 Jaxson had his last set of shots today, so he gets to take a minor break from the vet. His 6 month check up will bring his rabies shot, microchipping, and neutering, so he has all that to look forward to in about 2 months.
We took him to the pet store after the vet today as we needed some more training treats, and Jax did decent with trying to pay attention in the store (not great, but not horrible). We also bought a
easy walk harness
that our trainer suggested as this way we wont be tugging on his throat as when the leash is on his collar, and Jax was not a huge fan of the halti/gentle leader that Baxter previously had.
While at the pet store Jaxson could not stop getting compliments! Of course everyone goes ga-ga over a puppy, but we even had one man who stopped and identified right away that Jaxson was 4 months old, and then elaborated he used to have german shepherds and great danes, so he was quite familiar with the breeds and growing. Anyways, he went on to say Jax was one of the best looking GSD he had ever seen. Goodness! We think he's gorgeous, but all these people are going to give him a big head. Once we were in line we had three women checking out who started fawning over him, and that started to be too much for him and he started to get a little upset and shy. Besides a few instances like that, he has not been overly shy yet, so we are trying to keep him introduced to people and pets to make sure it doesnt get too bad. GSD are known to go through a shy period around 4-6 months.